Hey all,
This will be the first contest I have decided to run while on SPAAM, it will be a Christmas Themed Contest with the winner receiving.....
The 2007 Topps Limited Edition Santa Claus Set
The Perfect Gift! All-New Never Before Seen Photos of Santa! Base Cards Each card features a unique image of Santa – from classic Santa to modern Santa, plus some photos that have never been seen before! Card backs feature facts about Santa as he is today as well as tell the story of his rich history – making them perfect for kids and adults to enjoy together!
Rookie Card Santa's Rookie Card on the famous 1952 Topps design! 1 PER BOX!
Autograph Card Direct from the North Pole and witnessed by the Topps rep (brrr)! 1 PER BOX!
Relic Card These Relic cards feature an actual piece of Santa's famous red suit -- soot and all! 1 PER BOX!
Winner Will Also Receive
- An Autographed Card of NFL Hall of Famer Joe DeLamielleure
- Team Canada hockey puck signed by Daniel Carcillo
- Team USA 8x10 photo signed by Monica Abbott
- 5 Game Used Relic Cards
Here Are The Rules
-You Must Have 65 Posts in the Forum
-You Must Have Sports Christmas Avatar Picture for the Month of December
How To Win
- Post your favorite Autograph Memory in this thread that occurred in the month of December, along with a short story and pic of the item!
- I will hold the drawing on Christmas Eve, via a youtube vid, and everyone who tweeted will be entered into the drawing.
Good Luck, and Happy Holidays To All Of You!  

Avatar changed and here is my story...
Was a cold...cold December morning...the children still tucked in their beds as the smell of fresh made cookies lofted through the house. You could faintly hear the sound of bells ringing from the neighbors recently decorated porch. Something was different about this day...something was special...something that would be assigned a spot in my memory lane. Twas the 15th of December...ten whole days before Christmas but this year Christmas decided to come early for one young man...a young man still wearing his
Billy Idol
A Team pajamas. I wiped away the last bit of sleep from my eyes, put on my
toe socks
army boots and opened the front door. Ah yes, it was a sunny day...the site of a fresh snow filled my view. I could see the mailbox in the distance as the sun shined directly upon it...shimmering in the sun's radiance. I stepped out onto the front porch and
tripped down the steps
made my way down the sidewalk. The mail box became brighter as I approached it...
Ok...I was going to make this a much longer story but I have a meeting to go to...apparently I don't get a lot of autographs in December but this happened to be the best one I've rec'd in the month of December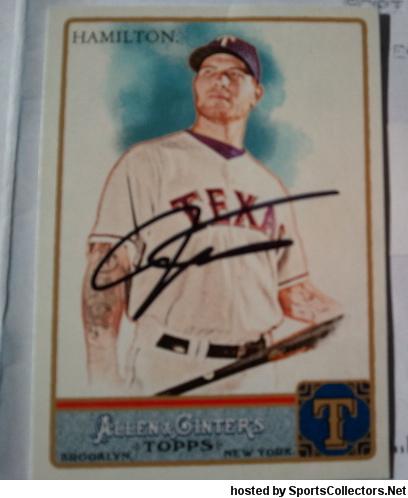 _________________
Check out some of my current projects:
Basketball HOF:
Basketball HOF
Baseball HOF:
Baseball HOF
1953 Archives:
1953 Archives Set
500 HR Club: 20/25
3,000 Hit Club: 18/28
Baseball HOF Members: 112/294
1953 Archives: 233/242
1963 Topps: 346/576
My faorite and most memerable graph is my first ever, I was about 10 years old, My Grandpa took me to a convention, that my idol Jeremy Roenick was signing at, We were in line and all of thew sudden, They announce that he has to leave, that an
" emergency practice" had been called. I was devestated, I was crying like a baby. Then before I new it there he was J.R. standing in front of me, He grabbed the puck I had, signed it, gave me a five, and kneeled down to my height and simply said to me. " Never let em see ya cry kid " and walked away.


Chi-townpaulie

Benchwarmer





Join date

: 2012-08-04


Posts

: 195


SPAAM Cash

: 2108


Reputation

: 45




Similar topics
---
Permissions in this forum:
You
cannot
reply to topics in this forum